Work starts on five chemical injection packages
2nd Oct 2019
Calder has been awarded the contract to design and build five chemical injection pump packages. These units will operate in a gas and condensate field, which is located in the Caspian Sea. The scope includes 2 x EHP Methanol units, 2 x LDHI AA (low density hydrate inhibitor) unit, and 1 x Topside Methanol unit.
All units will be certified for use in ATEX Zone 2 hazardous environments. Three units will feature variable stroke plunger pumps. This range of pumps allows a variable flow rate (0-100%) via adjustable stroke control, which removes the need for a VSD. The stroke adjustment can be made automatically or manually, and while the pump is on or off load. The pump range offers flow rates up to 111 lpm and pressures up to 3270 bar.
The Calder technical proposal uses API 674 pump skids designed to offer a reduced unit weight and footprint in comparison to the more traditional API 675 units. Compact skid design is an area where Calder has considerable experience.
Design work has started and the finished pump units will be completed in 2020. Prior to despatch, they will undergo full in-house testing and will be witnessed by the customer.
Project Update – Design Complete
January 2020
All three unit designs are now complete and the major components are arriving ready for the build process. As all design and build is carried out here at our factory in Worcester, UK, our engineering design team will follow the build progress closely providing continuity throughout the project.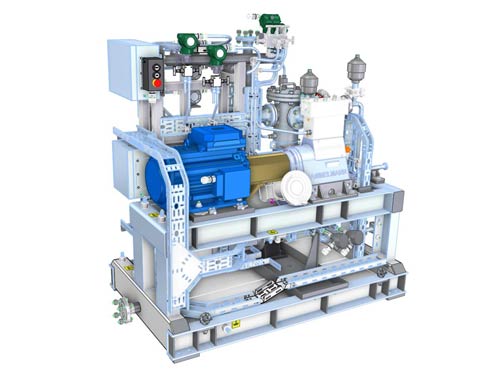 For more information see: