Pump Skid Packages
Hazardous area and safe area. Onshore and offshore. Industrial and process. Standard and bespoke. We design and manufacture pump skid packages for so many different applications. Read on below for a little information on pump skids. Or scroll further down to see just a few examples of pump skid packages we have supplied over the last forty years.
What is a Pump Skid?
The term 'pump skid' is commonly used in the oil and gas industry. It generally refers to a pump and its associated equipment mounted onto a sled or skid. These sleds were traditionally used to move heavy objects, such as logs, across the ground. In time, the term developed to include a pump system mounted onto a fabricated skid (often now called a base frame) that is positioned on site. Not necessarily dragged into position as was the original meaning.
Pump Skid or Pump Skid Package?
People use these terms interchangeably. That said, there is a difference. A pump skid is generally a pump and motor, and other basic components mounted onto a skid. Whereas, a pump skid package usually refers to a more comprehensive system that includes not only the pump and motor, but also other auxiliary equipment required for a complete solution. This could be valves, filters, pressure gauges, and flow meters, as well as electrical and control systems for operating and monitoring the pump. The package may also include accessories such as vibration isolators, insulation, and weatherproofing to protect the equipment from environmental conditions.
Some of the Pump Skids we have Manufactured
We took some of these pictures at our original factory in Gregory's Bank in Worcester (Gregory's Bank is now a housing estate). Some are from our new factory (we moved in 2011) just 2 miles away. As a pump skid manufacturer for over forty years, our experience is extensive. These pictures are, therefore, just a tiny sample of our supply history.
The orange, modular waste injection pump skid operates in a remote onshore location. We designed each module to be light enough to be lifted into position by a helicopter. The 2017 chemical injection skid package is a twin-pump skid that utilised the HDP 70V variable stroke plunger pump. These pumps allow a variable flow rate (0-100%) via electric, or manually adjustable stroke control, whilst the pump is on or off load, removing the need for a VSD. The latest of the units pictured is a 2022 unit for paint shop cleaning. This electric-powered pump skid features an environmental enclosure which has easily removed panels to allow good maintenance access. In addition, the panels are acoustically attenuated to minimise noise around the unit.
Check out this short pump skid video.
Modular Pump Skids
On existing offshore platforms, space and access are often an issue. Thus, where a pump package is an addition to existing equipment, the unit footprint is crucial. Even where the pump package is to replace an existing unit, getting the pump package to the location is generally challenging. Designing a pump skid for these situations is something we relish. However, no matter how much we reduce the size of the pump skid, sometimes a modular skid is the only option to enable site positioning of the equipment.
Follow Dan as he leads you through the design and build of a modular, offshore pump skid in this video case study.
These packing cases contain a modular pump skid that has recently been despatched to our customer. This pump skid is for offshore waste injection duties on a platform with very limited access.
Currently in Build
This baseframe will be the foundation for an offshore waste injection pump skid. We designed the package at our factory in Worcester, UK, and we are just starting the build process. This package is for an existing platform with limited deck space. The design is, therefore, modular to allow dismantling in Worcester and rebuilding in situ.
Currently in Build - continued
The build is well underway and the major components have been fitted. Further pipework and ancillary items to be added and then the electrical team will start their work.
Industrial Pump Skid - Examples
Cleaning Dies used in Animal Feed Processing.
This pump skid will use high pressure water to clean dies used in animal feed processing. The unit is configured to pump 21 litres of water per minute at 2,600 bar. At the quotation stage, we ran a series of tests to establish the most efficient pressure and flow for the application. This ensures the dies are cleaned correctly with minimal water consumption. Read the news item.
Formwork Cleaning in Construction
Looking for an easier method to clean formwork? This high pressure waterjet pump unit allows you to remove anything from light concrete residues to heavy encrustation from formwork of varying materials. The use of high pressure water is more efficient and produces superior results to traditional methods of cleaning. Check out this news item, Construction company recognizes the advantages of high pressure water.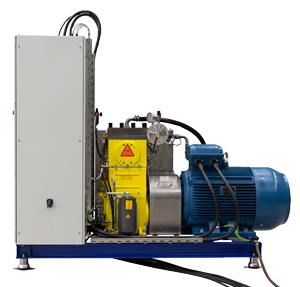 Cleaning in Food and Beverage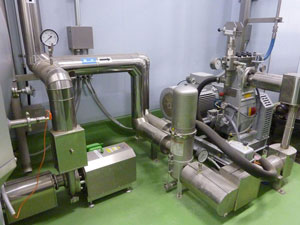 Many cleaning tasks traditionally relied on the use of chemicals or high energy consumption methods. However, more and more customers are turning to resource-efficient, ultra high pressure water. People recognize UHP water as a clean and efficient process for cleaning in food and beverage production. Discover the advantages of high pressure water in the food and beverage sector.
Nuclear Decontamination
Our bespoke design and build experience enables us to create reliable, efficient pumping solutions for very industry-specific applications. We offer solutions for removing contamination from various sources, such as process parts, large waste containers, or the walls of a cooling pond. When it comes to processing waste wash water, minimizing water usage is crucial from both an environmental and economic standpoint. To achieve this, we utilise variable speed drives to regulate the pumps and ensure precise water delivery. Our product range for the nuclear sector includes washdown systems, cooling and flood pumps, abrasive and cold cutting, and tube, pipe and tank cleaning.
Process Skid Packages - Examples
Methanol Injection
Our bespoke design experience for methanol injection projects is significant. Methanol injection pump skids often have to comply with both hazardous area requirements and stringent customer specifications. We offer a variety of options with our methanol injection pump packages. These include on-skid storage tanks, floor or skid mounted environmental enclosures, local or remote control, monitoring, and data acquisition and logging. More about our methanol injection pump skid packages along with a list of their typical features.
Hydrate Inhibitor
Designed, built, and tested in Worcester, this hydrate inhibitor injection pump skid meets the very specific requirements of the end user. To operate in the warmer climes of the Persian Gulf region in ambient temperatures of up to 50°C, we fitted this pump skid with a protective enclosure and specialist cooling equipment. The unit builds on our vast experience in the supply of bespoke Methanol Injection and Chemical Injection pump packages for hazardous environments, both onshore and offshore.
Chemical Injection
We specialise in the design and manufacture of API 674 and API 675 chemical injection pump skid packages. We mount our pump packages on skids, in a crash frame, or in a container. For chemical injection applications, our customers generally require skid-mounted packages. In addition, skids minimise unit cost and maximise maintenance access.
Cooling Skid
These cooling pump systems are generally skid mounted, but we offer various options to suit the application and operating location. For instance, a popular choice is a skid base with an environmental enclosure covering the equipment. Whilst protecting the equipment from the environment, an enclosure has other benefits. These include the options of noise attenuation, heating, lighting, internal maintenance crane, fire and gas detection systems, and design to account for explosion/blast loads.
Well Service Pump Skid - Examples
Waste Injection
We have been at the forefront of the development of waste injection pump units for offshore drill cuttings injection since the 1990s. Previously, these units were known as cuttings re-injection or CRI. Cuttings re-injection is an environmentally responsible and cost-effective disposal method for offshore waste. In addition to the many pump skid packages we have supplied for offshore use, we designed and manufactured a 40-ft road-going unit for an onshore oilfield.
Well Service
Our well service pump skids are usually capable of a range of well service applications. With maintenance and well integrity critical, our in-house design and engineering team focuses on safety and reliability to ensure our well service pumps meet the high expectations of our customers.
We also offer pumps designed specifically for well stimulation applications. These pump packages often require higher pressures than their well service counterparts. However, they are all designed, built and tested under one roof at our factory in Worcester, UK.
Fracturing
For formation fracturing and well kill operations, we employ traditional horizontal pump designs that withstand the rigours of the applications. We have considerable experience with the bespoke design of compact, offshore well service pump skids.