Order for complete tube bundle cleaning systems
9th Jan 2023
Order for complete tube bundle cleaning systems
We are pleased to receive another order for internal and external tube bundle cleaning systems. The scope of supply includes high pressure pump units, tube bundle extraction equipment, internal tube lancing machines, external bundle cleaning machines, and onsite training. Our spares and service team will be here to support our customer in maximising equipment uptime and efficiency.
Scope of Supply
3 x Trailer mounted pump units
15,000 and 20,000 psi hydrojetting accessories
1 x Rigid lancing internal tube cleaning system
3 x Freelance internal tube cleaning machines
45T Hook lift tube bundle extractor
Shell-side external tube bundle cleaner
Onsite training
Trailer mounted pump units
Mobile, high pressure pump units with safety and reliability at the heart of their design. In addition to a large range of water jetting pump models, we also supply performance conversion kits. These kits allow the operator to change the operating pressure in a short time to maximize equipment versatility and utilization.
15,000 and 20,000 psi hydrojetting accessories
We will support the tube bundle cleaning applications with a range of accessories will be supplied. This will include high pressure hose assemblies, waterjetting lances, nozzles, and MasterJets. The MasterJet is a highly efficient rotating nozzle which boasts a long life expectancy through its high performance seal system. It has a universal nozzle hub for working with 2 or 4 nozzle inserts, variable speed, operating pressures up to 3,200 bar, and a service friendly design. The Masterjet's efficiency and longevity make it the surface preparation tool of choice for many hydrojetting contractors.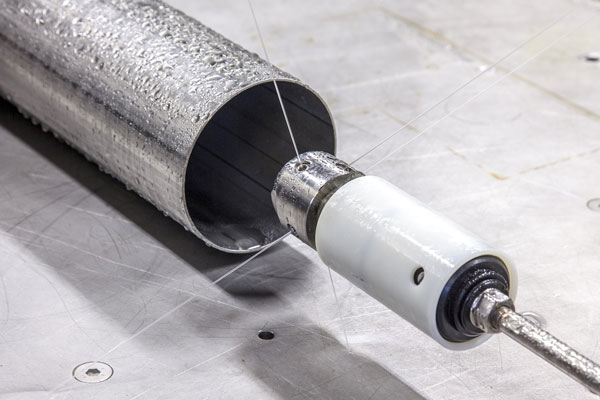 Rigid Lancing System
Safe, efficient cleaning of heat exchanger tube bundles. The system is modular in design to easily adapt to any length tube bundle. With pressures of up to 1,500 bar, the system removes hard plugs, scaling and general cleaning of heat exchangers and small pipes.
Freelance internal tube cleaning machine
A popular tube cleaning unit, the Freelance is a pneumatically powered, internal flexible lance system. This is a portable unit with adjustable and controlled lance extension allowing consistent, end-to-end tube cleaning.
45T Hook lift tube bundle extractor
A crane lifts the Hook-Lift Extractor into position. An integrated hydraulic power unit powers the tube bundle pulling and pushing operations. Hydraulic operation is through remote control to aid operator safety. An important feature of this machine is the self-balancing technology. This ensures the machine can balance itself and the load at all times.
Shell side cleaner
This is a semi-automated solution for the external cleaning of heat exchangers with high pressure water jets.
Talk with Us
We are here to help you select the best tube bundle cleaning system for your specific requirements. Please call to discuss how we can help with your tube cleaning applications on +44 1905 751790 or email sales@calder.co.uk.