High Pressure Hydrogen Pumping Systems
We specialize in the design and manufacture of high pressure pumping systems for hazardous area operations. We understand that pumping in the hydrogen sector has its specific obstacles and challenges, much as do the other industries we serve. We are here to work closely with you to provide you with a skid-, container-, or module-based, high pressure hydrogen pumping solution for your application.
If it is pre- or post-feed hydrogen PEM electrolyzer or hydrogen fuel cell, we can support our customers by designing skid-based pre-feed or post-PEM hydrogen delivery systems. We can design bespoke hydrogen pressure systems compliant with PED requirements for 350 bar or 700 bar to suit your applications.
Our Bespoke Pump System Design Experience
Our company has a long history of supplying pump systems for operation in hazardous areas in the energy industry. We have a wealth of experience and knowledge in designing and engineering pump packages for highly technical and application-specific processes. In recent years, we have also expanded our expertise to include the geothermal and carbon capture, and storage (CCS) sectors, demonstrating our ability to adapt and provide solutions for a variety of developing industries. We pride ourselves on our ability to deliver customized, specification-compliant and efficient pump packages that meet the unique requirements of each application.
Hydrogen Pumping – the Challenges
High pressure hydrogen pumping presents its own challenges due to its density and specific weight. Our long experience designing pump units for ATEX Zone 1 and 2 operation has transferred well into the hydrogen arena. Additionally, many customers have their own standards and we are adept at combining the standards and regulations to ensure total compliance.
Hydrogen creates major issues around material suitability and we work with key suppliers in dealing with the material challenges, whether it is high grade materials or providing hydrogen jointing and sealing solutions. Our experience in pumping fluids and liquified gases is extensive. Process pump projects frequently require construction with special metals from the pump to the pipework.
Hydrogen is an expensive commodity to produce, transport and store. We are always able to investigate ways to minimise the equipment cost. However, what we are best known for is supplying bespoke pump packages that are reliable and have a low lifetime operating cost.
Designing and Building Your Pumping System
Pump System Design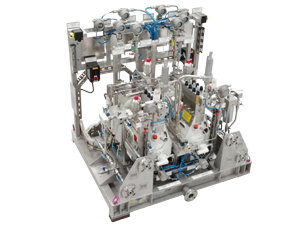 To start we look at the pumped fluid or gas and the location of operation. We have a wide range of fluid end and valve materials available to suit the pumped medium including potassium hydroxide and we continually expand this knowledge as more challenges of hydrogen applications present themselves. The operating location will determine the system's hazardous area requirements. We address access and space constraints very early on at concept stage. Indeed, we have vast experience designing for these issues on space-limited offshore platforms or land-based container based applications.
Pump System Build
We carry out all project build in our factory in Worcester, UK. This allows us to retain complete control of build quality and timelines. We are committed to high standards of HSEQ throughout the design and build process. This is evidenced by our long-held registrations for ISAO 9001, ISO 14001 and ISO 45001.
Pump System Testing
We supply skid-based pump packages complete with a full control system or for integration into an existing drive/control system. In either case, the package will undergo extensive in-house performance testing. Many of our customers visit us to witness the testing. However, we also offer remote viewing of the testing.
Contact Us
Whatever your high pressure hydrogen pumping application, we are here to help. Please call us on +44 1905 751790 or email sales@calder.co.uk.