What does documentation mean?
For Calder, documentation plays an important role in providing supporting evidence that the machine complies with contract requirements. Without doubt, as important as the engineering design and the build. For industrial, non-hazardous applications we provide Operating, Maintenance & Certification data packs. These packs come complete with the Calder UKCA Declaration of Conformity listing all directives and standards applied. At the other end of the scale, for machines for operation in hazardous areas such as ATEX Zone 1 or Zone 2 applications, we provide more comprehensive data packs. Many of these projects are subject to more stringent requirements for safety and quality. They must demonstrate adherence to the plethora of rules and regulations from both industry and customer specifications.
In fact, such are the high standards required of suppliers to the energy sector, our two decades of documentation experience and knowledge often plays a vital part in the customer's decision making process. This is especially so with high specification, high value contracts.
What drove our documentation expertise?
We first entered the energy sector as a manufacturer of high pressure pump packages over two decades ago. At that time, our founder, Ian Calder-Potts, was discussing the industry's onerous compliance requirements over lunch with a supportive customer. That customer advised, "If you are serious about entering the oil & gas market you must invest time and effort, immerse yourselves in the standards. Don't just pay lip service – understand and assimilate them." And we did. Without delay, we acted on this advice. We set about enabling all sections of our business to understand the applicable standards and the actions needed to comply with them. And we need to document all of this!
In short, we developed a documentation department in order to achieve and support the high expectations of our clients.
With which standards and regulations do we need to comply and document?
Many. We design most energy projects, both onshore and offshore, to ATEX requirements – usually Zone 2, sometimes Zone 1. NORSOK features heavily as we have a large customer base in Norway. IECEx in Australia, and CSA and CRN for our customers in Canada. See more about the hazardous area standards for which we design our units.
Add to the list the specific requirements from the customer. This can be simply specifying a particular material of construction to suit the site or application. Of course, it is frequently reams of documentation stating the customer's design and build standards. We deal with it all.
What does a Calder documentation engineer do before and during a project?
Support the Proposals and Engineering teams with documentation knowledge during customer bid clarification meetings. This allows us to create and present a Supplier Document Requirement List (SDRL) also known as Master Document Register (MDR). This provides a detailed list of agreed documents against the client's project specifications.
Upon receipt of a purchase order, the nominated documentation engineer is responsible for all document-related functions. In effect, all documentation through the project lifecycle to final delivery of the Installation & Operation Manual (IOM) and Manufacturers' Records Book (MRB).
Part of the Team
The documentation team, an integral function of the engineering department at Calder, report directly to the head of engineering. Day-to-day workload includes management of the project SDRL, recording and tracking of document workflow, revisions and document status. We ensure document milestones and document updates are within the contractual project timeline. Registration and tracking of document transmittals is another vital role. And, lastly, creating and presenting documentation KPIs to internal and external stakeholders.
Just as important is working closely with the Calder purchasing team. We offer support and guidance to ensure our suppliers provide the documentation required. In particular, we pay consideration to hazardous area contracts and the area of installation. Where in the world the machine will operate impacts greatly on the type of documentation sub-suppliers are to comply with. For example, ATEX, IECEx, Norsok, CSA are some of the standards applicable to particular regions.
Your passport to a compliant machine
Together with our expertise in design and manufacturing, Calder documentation is your passport to a compliant machine.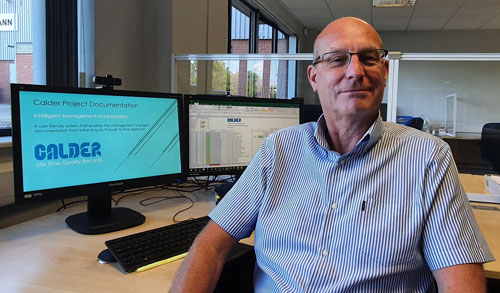 "I would like to take this opportunity to thank our customers, third party inspectors and individuals. Over the years they have provided information that can only be gained through experience. All feedback is important to gain a better understanding and provide opportunities for improvement. Thank you." Anthony Power, Documentation Manager.